---
Human iPSC-derived microglia as an Alzheimer's Disease model
The importance of microglia for understanding Alzheimer's Disease pathology is increasingly recognized since GWAS studies implicated mutations in the microglial Trem2 gene locus as a risk factor in Alzheimer's Disease (AD), and mouse studies confirmed loss of function mutations in Trem2 in AD models advanced the rate of brain atrophy.
Historically, animal models of Alzheimer's Disease have failed in therapeutic translation, with many drugs showing pre-clinical promise failing in human trials at the clinic.
Using human cells in drug development models and assays could help overcome this translational gap. That translational gap drives the increase in demand for robust human iPSC-derived microglia in AD research and development (R&D).
At Axol, we are setting new standards in stem cell R&D and manufacturing. Our deep scientific expertise underlines our mission to improve the robustness and reproducibility of stem cells, working towards a world where clinical trials are first conducted in the dish, and promising therapies can be triaged in human cells before they go to first-in-human trials.
Learn more about our iPSC-derived microglia here
Microglia morphology is affected by matrix composition
In addition to producing robust iPSCs, Axol scientists partner with leading scientific groups to improve their assays, conduct bespoke research and develop disease models that can transform their R&D capabilities.
Jellagen, a marine biotechnology company manufacturing next-generation collagen for medical and scientific research applications engaged us to test the suitability of its Collagen Type 0 product as a matrix for culturing our iPSC-derived microglia.
We performed experiments in two phases. Initially, we cultured our iPSC-derived microglia on plates of different concentrations of Collagen Type 0 (1mg – 100mg), Rat Tail Collagen (1mg – 100mg), Laminin (10mg) or tissue culture plastic.
We explored cell morphology, metabolic activity, and viability at 24, 48, and 72 hours to understand the optimum culture conditions for microglial growth.
In the second phase, we delved deeper into the morphology and functional activity of the human iPSC-derived microglia. We developed an optical assay to measure and track the ramification of the cells. We also probed their functionality through cytokine analysis following challenges with IL-6 and TNFα, as well as testing functional viability through an MTT assay.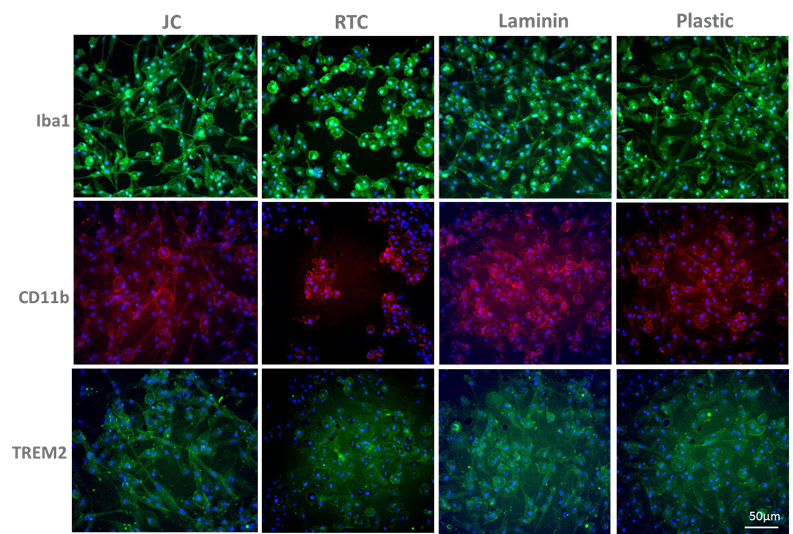 Figure 1. Immunocytochemistry of macrophage and microglia markers. Cells cultured on JC, RTC, Laminin or TC plastic for 48h. Blue: DAPI. Green/Red: marker of interest.
Overall, we showed that iPSC-derived microglia could be successfully cultured on Collagen Type 0 (JC) with no negative effect on cell viability. Cells cultured on all concentrations of Collagen Type 0 appeared elongated and with a ramified morphology, consistent with standard culture protocols of these cells, and similar to cells cultured on laminin or TC plastic. This contrasts with cells cultured in rat tail collagen.
What do these findings mean for the field?
The iPSC field is young and burgeoning. It is important that scientists continue to explore and develop methodologies that can improve the culture and use of iPSCs in R&D. One of the ways to do that is to investigate the use of Collagen Type 0 in their cell matrices.
If you would like to learn more about how our scientists at Axol can help you improve your methodologies, test your compounds or create a disease model for your assays, reach out by email: info@axolbio.com

---
Share this post: